Like many of you I'll be heading to Las Vegas shortly to visit the industry's big trade show, the Digital Signage Expo. The nice thing about the show is that it has become a de-facto meeting time for vendors, clients, partners and (dare I say it) friends, and has spawned a number of other meetings and events that take place at the same time. There's sure to be plenty of eye-popping tech on display, and I'm certain that the hyperbole will be thick enough to cut with a knife. But I'm most looking forward to spending a little time with clients on the floor, and then catching up with folks in a few of the side-lined events.
POPAI's technical standards meeting
Yes, I'm one of those digital signage geeks who can actually get charged up about attending a standards committee meeting. For what it's worth, the
POPAI Digital Signage Standards Group
shindig at the DSE is one of those rare opportunities for a bunch of smart people who normally compete with each other to get together for the greater good. During the meeting, we'll take the time to exchange ideas and compare approaches to the various problems we've all had to solve over the years. The goal is to work out some of the details for our standard for creating playlists that are interoperable with many different digital signage software packages. While our weekly meetings are generally restricted to members of the group, anybody can attend our live events (held at DSE and Infocomm). The discussion always starts out with a broad overview of past accomplishments and current goals, though after that the discussion can definitely get pretty technical. Still, if you or anyone you know would like to stop by and join the meeting, you'll be more than welcome.
We'll be meeting in room N260 at the LVCC on Wednesday afternoon from 4:15-6 pm.
Seeing MicroTiles up close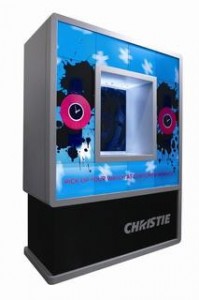 I've heard a lot of exciting things about MicroTiles over the past few months, but for one reason or another, I haven't yet been able to see them up-close. That'll change on the DSE show floor, where
MicroTiles will be on display in a number of places
. In case you haven't heard about this technology, Christie's MicroTiles are basically small projection screens that can be stacked in virtually any configuration to make nearly-seamless, high-definition video screens in all sorts of weird shapes and sizes. They've gotten a really good reception from digital signage and AV industry experts who've seen them up-close, and WireSpring's own limited opportunities to work with them have proven very positive so far.
Gaggles of new, small-form-factor Atom and ION players
Ever since Intel released their Atom processor in early 2008, we've had prospects and customers ask about using Atom-based systems for digital signage applications. That's not too surprising, since you can get a tiny, Atom-powered PC for about $200. While we haven't been too impressed with straight Atom offerings, some of our customers have had great success with Atom-based PCs that use NVIDIA's ION chipset to do things like HD video acceleration. While these devices were few and far between in 2009, 2010 seems to be the year of the Atom/ION combo. In fact, I expect that a number of little booths in the back of the show hall will be demonstrating inexpensive, tiny media players capable of driving full-HD video, with power to spare.
The Preset Group's first annual mixer
I have to imagine that Dave Haynes, Pat Hellberg and David Weinfeld know how to throw a party, but come Tuesday night I'll know for sure. The dynamic trio (and founders of the Preset Group) are hosting a pre-DSE kickoff mixer that sold out within 24 hours of being publicly announced. At about 200 people, it's big enough to be productive (and fun), but small enough to stay intimate (and hopefully quieter than the jet-engine caliber din of the DSE's own open house the next day). I'll be looking forward to catching up with old acquaintances in a vendor-neutral environment, and possibly watching Haynes do some cage dancing after one too many vodka and tonics.
When it comes to finding sources of digital spectacle in Las Vegas, I've just scratched the tip of the iceberg. But to me, these things will go a long way towards making my trip to DSE interesting and hopefully worthwhile. And I'm sure that everybody heading out there this week has an agenda of their own. So tell me...
What are you looking for at DSE? Which other events shouldn't be missed? Leave a comment below to keep us informed!
By the way, if you need to get a hold of me during the show, I've set up a special email address that goes right to my Blackberry.
Just email billg-dse@wirespring.com
and I'll get back to you as quickly as I can.